8 Weeks of Giving
December 22, 2021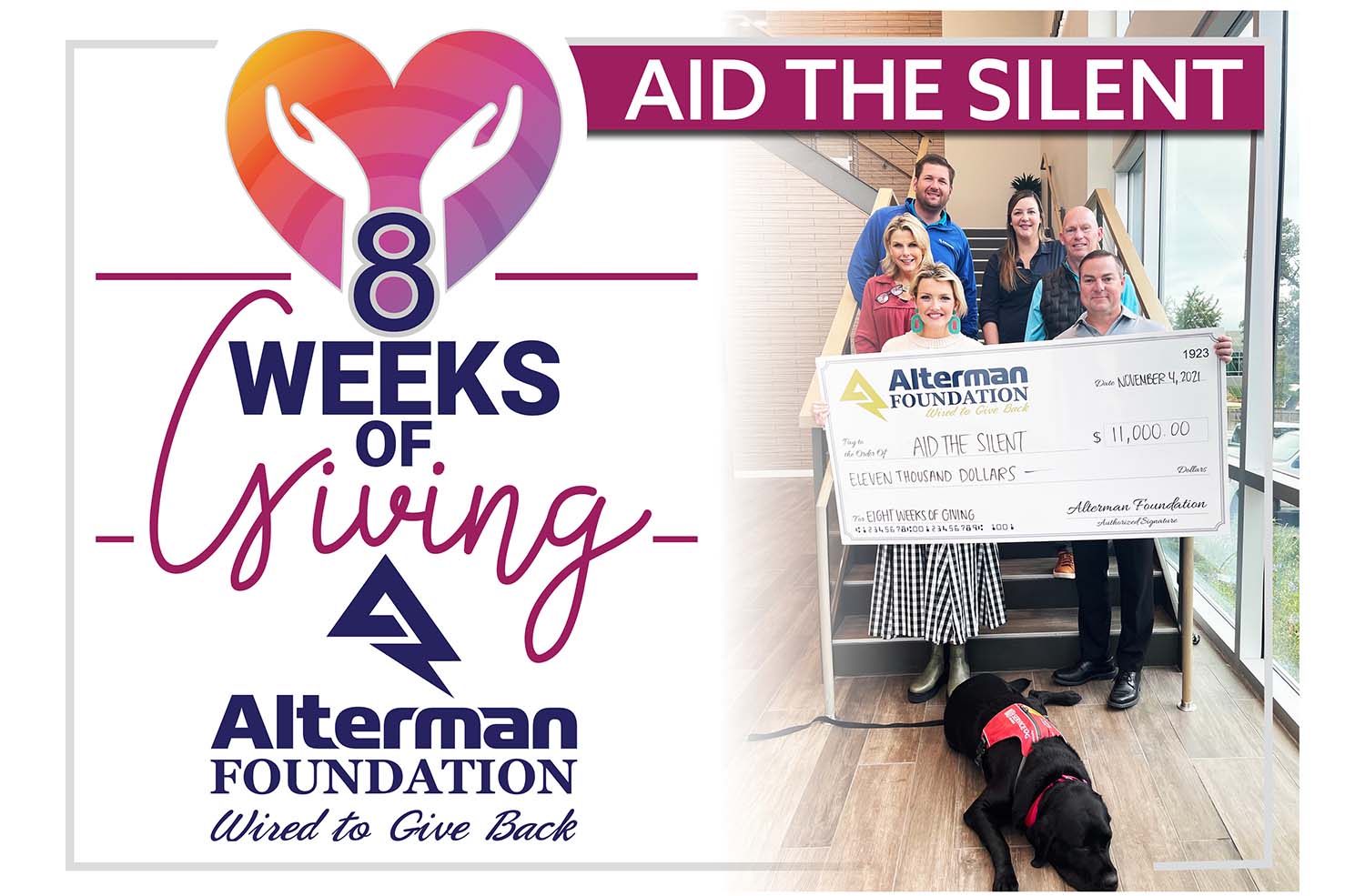 As we head into the holidays, our Alterman Foundation presents a very special "8 Weeks of Giving"! From today till December 25th, one check per week will be presented to a special charity, organization, or cause that our Alterman employees themselves nominated. These organizations are ones that are near and dear to our employees' hearts, and ones that they themselves, give their time and resources to.
WEEK 1:
Our first recipient for week 1 goes to Aid the Silent. Aid the Silent is a Texas-based nonprofit that helps deaf and hard-of-hearing children and teens receive equal access to opportunity by providing financial assistance to enhance communication methods; gain access to education resources; and improve their overall health, both mental and physical, that leads to individual growth socially, educationally, and spiritually. Aid the Silent strives for equality for the deaf community! To find out more about this organization visit: https://www.aidthesilent.com/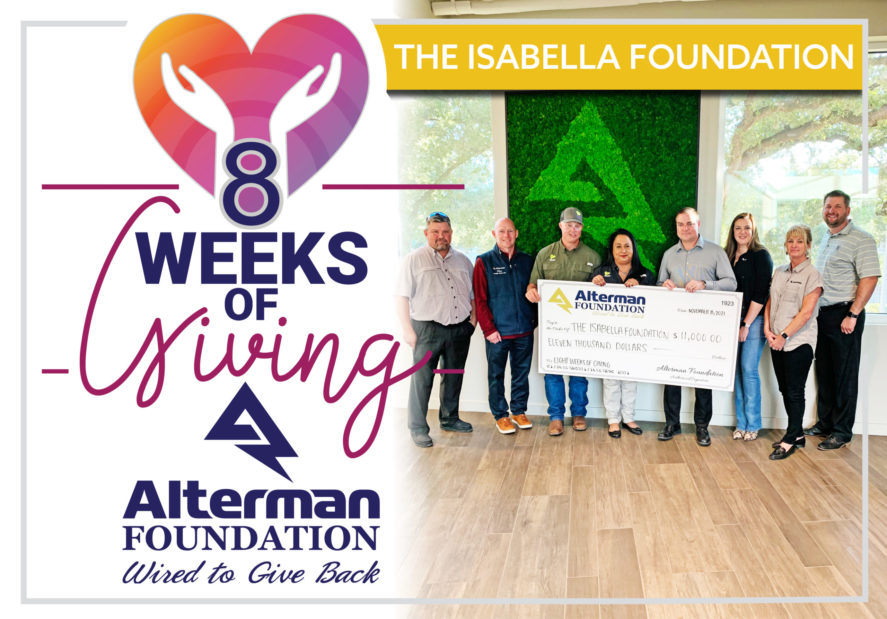 WEEK 2:
Week 2 of Alterman's 8 Weeks of Giving! This week we focus on our youth and their mental health, as we help create awareness around the magnitudes of bullying. We selected The Isabella Foundation because this nonprofit is near and dear to the heart of our employee, Roger Barrett. The Foundation was established in memory of Isabella Scott, who took her own life as a result of bullying, The Isabella Foundation strives to raise awareness regarding the potential dangers and cruelty inherent in bullying (both face-to-face and online) by adolescents.
WEEK 3:
Our 8 Weeks of Giving continues with week 3 by presenting a check to Corazon Ministries, an organization that centers its efforts on serving our San Antonio homeless. We chose this nonprofit because one of our employees, Cynda Walker, introduced us to this heartfelt cause and it's where she spends her own time volunteering. Founded in 1999, Corazon San Antonio operates in the heart of downtown San Antonio at Travis Park Church and Grace Lutheran Church serving our homeless and marginalized neighbors by providing hot meals, clothing, warm showers, hygiene items, access to primary medical care, optometry and dermatology care, barber haircuts, art therapy, recovery groups, and prayer circles. They serve over 30,000 hot, nutritious meals per year and rely on over 75 enthusiastic volunteers each week to provide unconditional love and life-giving support to our neighbors. For more information visit them at http://corazonsa.org/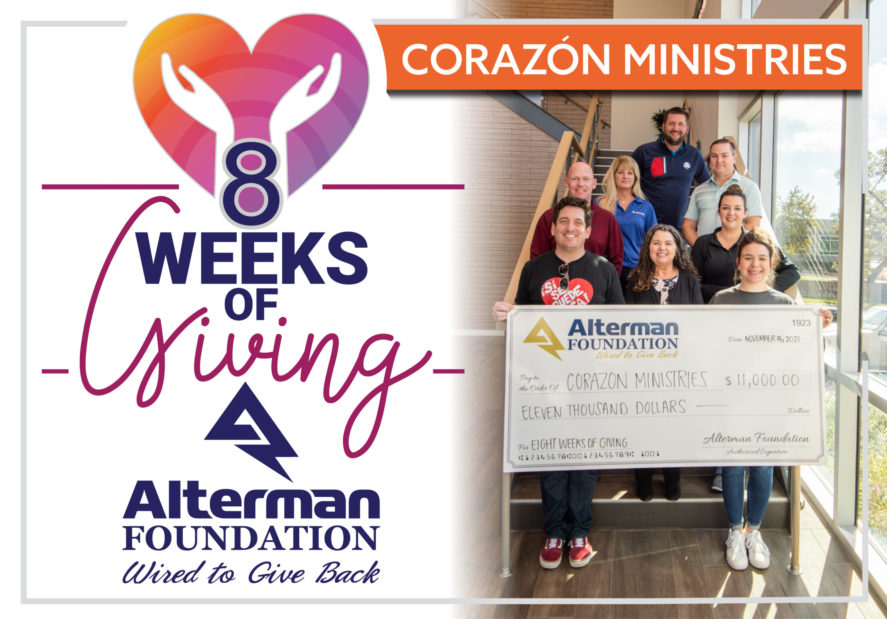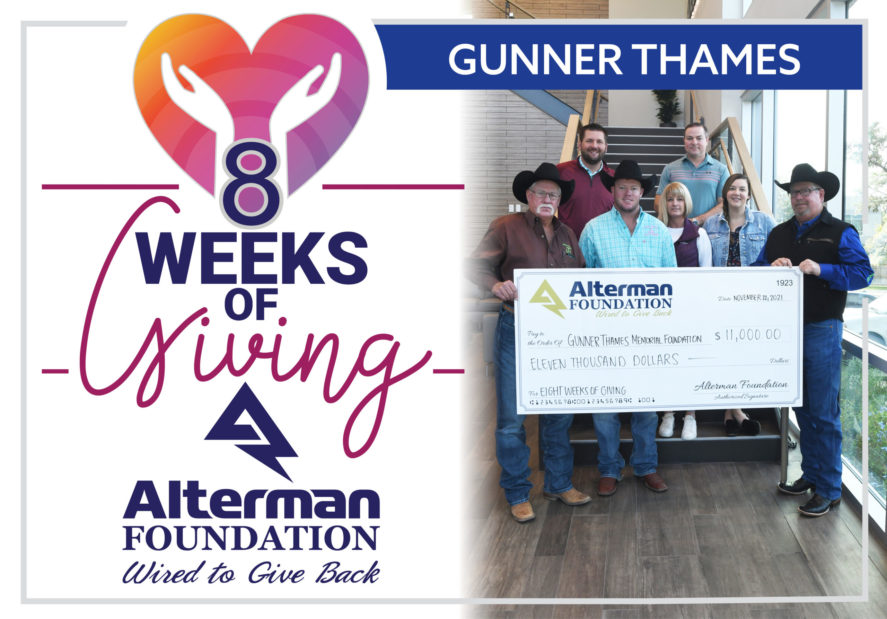 WEEK 4:
Week 4 of Alterman's 8 Weeks of Giving goes to the Gunner Thames Memorial Foundation! Our Alterman employee, Anthony Hernandez brought this wonderful organization to our attention and one that he is very passionate about. They work to support local 4H, FFA, and Rodeo Athletes as well as to raise "Crisis" funds to benefit our youth in the community.
WEEK 5:
Week 5 of Alterman's 8 Weeks of Giving! We are happy to announce this week's charity check goes to The Hope Center Ministries. The Hope Center was created for individuals and families in Spring Branch, Bulverde, Blanco, and Canyon Lake areas that are going through a hard financial season. They provide food, clothing, offer bible studies, "personal growth" classes, and a monthly worship service called Night of Hope. Thank you to our employee, Emile Larose for bringing this amazing organization to our attention. To learn more visit them at The Hope Center Food Pantry and Outreach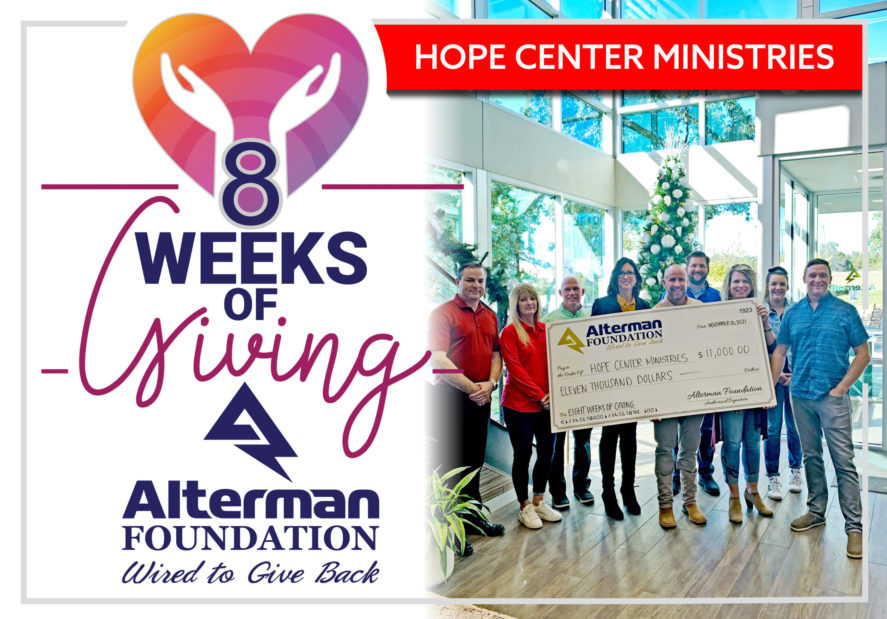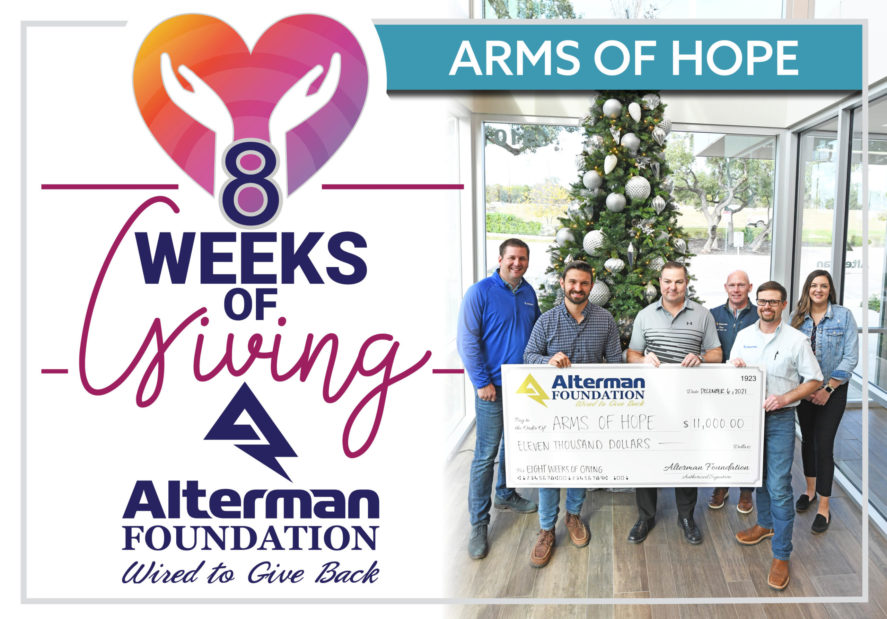 WEEK 6:
As we get closer to the end of our 8 weeks of giving, we recognize Arms of Hope for week 6. Arms of Hope, is a nonprofit Christian organization located in Texas. It was formed by the consolidation of Medina Children's Home (est. 1958) and Boles Children's Home (est. 1924). Although both organizations were originally created to serve as homes for orphans, they expanded to serve the growing needs of at-risk children and families. Through their residential child care, education, and outreach ministry programs, Arms of Hope is committed to providing a safe haven and Christian environment for children and single-mother families by helping them avoid homelessness, poverty, abuse, and neglect. Thank you, Eric Walker for introducing us to Arms of Hope and also dedicating your own time and resources to this organization.
WEEK 7:
We are closing in on our 8 weeks of giving! For week 7 we presented a check to TRAPRS – Trapping, Rescue, and Pet Recovery Service, a nonprofit in Austin, TX. TRAPRS is a homegrown, grassroots pet rescue network founded on the belief that every pet deserves a chance at a better life. They catch the uncatchable, reuniting lost and found animals. For animals that don't have a home, they find them one and provide any medical treatment and training they may need. TRAPRS is a 100% volunteer-based rescue. All donated funds go toward equipment, medical, food, training, and whatever it takes for an animal to go from life on the streets to a safe home, turning fear into love. Amariah Harp pours her heart and soul into this organization and we are so excited to be able to contribute to our employees' passions.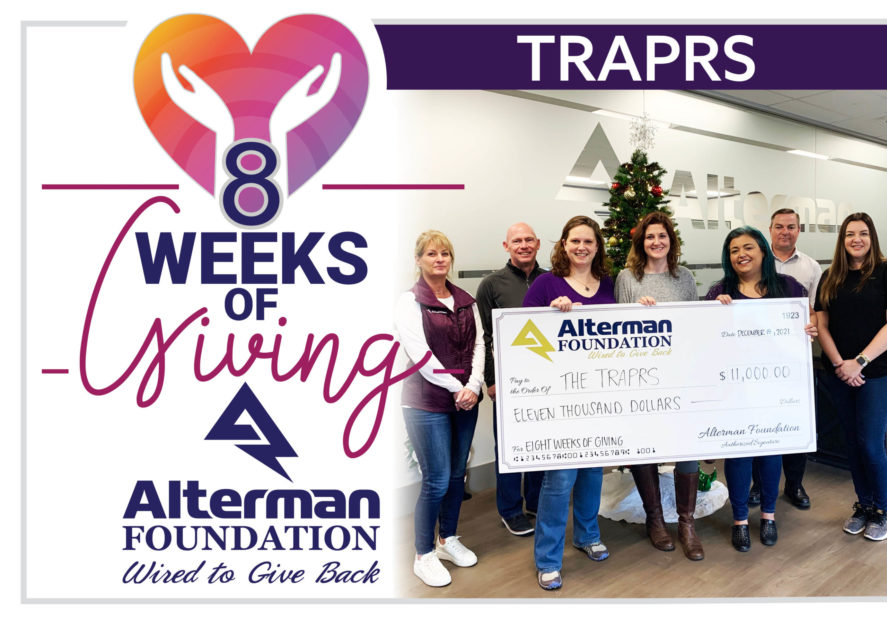 WEEK 8:
We end our 8 Weeks of Giving by presenting our final check to the National MS Society. Our Alterman employee, Erika Hipolito is undoubtably passionate about this cause and informed us of how this organization is making a difference for individuals with MS. The society has big goals, to stop MS in its tracks, restoring what's been lost, and ending the disease forever! To find out more information about MS, visit www.nationalmssociety.org
The Alterman Foundation is generously funded from our yearly non-profit events such as our, Alterman Sporting Clay Shoot and our Alterman Golf Classic. All our appreciation goes to our wonderful sponsors, clients, vendors, and friends. Thank you all for helping us give back to our community in a big way!Our Sponsors Include:  The Reynolds Company, Southwire, United Tool and Fastener, Hill Country Electric Supply The Okonite Company, ABLE Machine Tool Sales, Inc., Brisk Worldwide, Milwaukee Tool, PES, Lonestar Electric Supply, Elliot Electric Supply, Marsh, Cummins Inc, River City Excavation, RSM US LLP, Huband-Mantor Construction Inc., National Field Services, Rexel USA, SpawGlass, Crawford Electric Supply, Eaton, Hicks Lightning, 2M Lighting, Bonded Lightning Protection Systems, Ltd., Consolidated Electrical Distributors, Siemens, Spectrum Lighting Inc., San Antonio, Encore Wire, Metropolitan Contracting, Alamo Truck Gear – Line-X of San Antonio